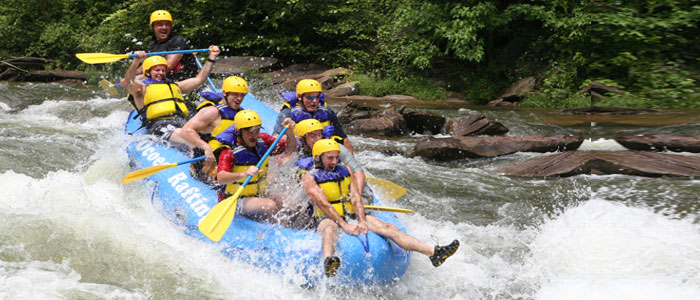 Ocoee Rafting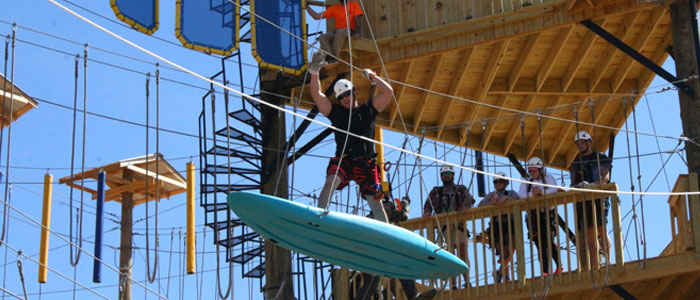 Aerial Challenge Course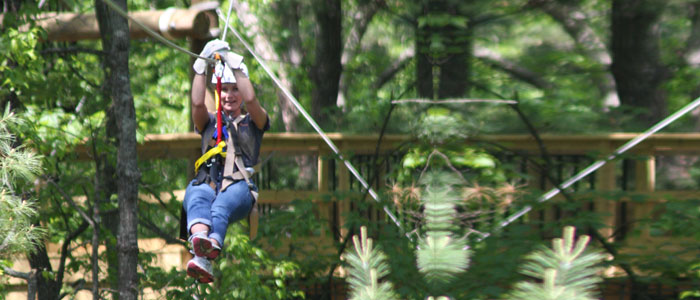 Zipline Canopy Tours
Ocoee Rafting
Selecting a Rafting Trip
Middle Ocoee River Trip: (Starts at $40.00 Per Ticket)
Distance: 5 Miles
Rapids: Class III & IV
Trip Length: 1.5 Hours on the Water / 3 Hours from Check-In to Check-Out
Season: Weekends in the Spring & Fall / Thursday - Monday in June, July, and August
No Experience Required
Upper Ocoee River Trip: (Starts at $49.00 Per Ticket)
Distance: 5 Miles
Rapids: Class III & IV (Home of the 1996 Olympic Whitewater)
Trip Length: 1.5 Hours on the Water / 3 Hours from Check-In to Check-Out
Season: Weekends Mid-May to Mid-September
No Experience Required
Full River Trip: (Starts at $85.00 Per Ticket)
Distance: 10 Miles
Rapids: Class III & IV
Trip Length: 3 Hours on the Water / 4.5 Hours from Check-In to Check-Out
Season: Weekends Mid-May to Mid-September
No Experience Required
Requirements to Raft
Tennessee State Parks require all rafters on the Ocoee must be at least 12 years of age, and any participant under the age of 18 must also have a parent or guardian's signature.
All participants must wear shoes (strap on sandals, tennis shoes, or water shoes). Flip flops are not allowed.
As a sanitary measure, we require that a shirt be worn by all participants. Tank tops and bathing suit tops are not allowed.
Things to Know
One of the great things about the Ocoee River is that there is no experience necessary! There will be a trained guide in each raft and we think we have some great guides. After the trip, you will too!
Photos are taken of each raft on each trip and are available for you to view when you get back to the outpost after your trip.
Rafting can make you hungry. Try our pizza and sub shop before or after your trip.
Aerial Challenge Course
The Course
Blue Ridge's premiere Aerial Adventure Park is an obstacle challenge course designed to challenge participants both mentally and physically. The course features three levels of suspended bridges and tight ropes from 15 to 45 feet in the air, with each level becoming progressively more difficult. Each participant will be clipped in to a safety line while on the course. Designed to be self-guided for ages seven and older. Participation is at each individual's own pace with up to 1.5 hours allowed to get through the course.
Prices
Ground Level (5-6): $19.99 Per Ticket
Youth (7-9): $29.99 Per Ticket
Junior (10-14): $39.99 Per Ticket
Adult (15+): $49.99 Per Ticket
Requirements
Must be able to reach to a height of 70 inches while keeping your feet flat on the ground. (Except for the Ground Level, which only requires a reach of 65 inches.)
Must weigh less than 250 pounds.
Must wear well-fitting clothes and closed-toe shoes. We do not allow anything that hangs loose or could get tangled in cables or ropes such as baggy clothes, jewelry, or loose hair. Flip-flops and sandals are not allowed.
Things to Know
No experience is required!
Hours of operation vary depending on the weather and season. To ensure availability and confirm dates of operation, reservations are recommended.
Zipline Canopy Tours
Selecting a Tour
Two-Hour Zipline Tour: ($89.99 Per Ticket)
13 Zips (One Mile of Cable)
12 Canopy Decks (25 - 75 Feet High)
3 Sky Bridges
2 Towers (35 & 75 Feet High)
150 - 1,000 Foot Zips
ACCT Certified Tour Guides
One-Hour Zipline Tour: ($49.99 Per Ticket)
7 Zips (Half a Mile of Cable)
6 Canopy Decks (25 - 50 Feet High)
1 Sky Bridge
35 Foot Tower
150 - 550 Foot Zips
ACCT Certified Tour Guides
Requirements to Zip
All participants must be at least 10 years of age and between the weight of 70 to 250 pounds.
All participants must be in good physical condition. Participation is not recommended for anyone with heart conditions, recent surgeries, or beyond first trimester pregnancies. 
Closed-toe shoes are required to be worn, such as outdoor hiking or running shoes. Flip flops and sandals are not allowed. 
Shirt that covers the full back and shoulders must be worn. No tank tops. 
Comfortable pants such as mid-thigh shorts, capris, or long pants should be worn.  
Long hair must be pulled back in a ponytail.  No jewelry, scarves or items that could get caught in a cable are allowed. 
Things to Know
No experience is required! Two guides are on each tour that will send and receive the guests on each zipline.